Our Caribbean Cruise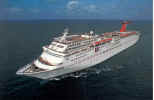 (Click on thumbnail for full sized image)
Marlis and I cruised the Southern Caribbean between October 7th and October 14th. This was the first cruise for Marlis. I had been trying to get her to cruise with me for about 15 years, but she never wanted to go. When she finally showed a small sign of giving in, I immediately booked passage.
We set sail aboard the the Carnival Ship, ms Fascination, from San Juan on October 7th and visited St Thomas, St Maarten, Dominica, Martinique and Barbados before returning to San Juan on October 14th. These pages are intended to show some of the photos from that trip. Click on the thumbnail images to see full-sized images.
The Embarkation


(Click on thumbnail for full sized image)

The expressions on our faces above reveal our condition after rising at 4:00AM in the morning, flying to San Juan and then waiting over an hour in the sweltering heat before boarding the ship. This was the low point of the trip affectionately called "The Embarkation From Hell!" Fortunately, the trip was to improve significantly after this ordeal.
Click on any of the decks below to see what you can find on board the Fascination.

Carnival Line's m.s. Fascination Fun Ship was our home away from home for seven days. Here are some interesting facts about the Fascination:
Time to build
...
2.5 years
2 million working hours
10,000 manyears
Number of people involved in construction
...
4,050
Cost
...
$315 million USD
Cost/Pound
...
$4 USD
Number of passengers
...
2,594
Number of crew members
...
920
Fuel Capacity
...
625,890 gallons
Daily fuel consumption
...
30,000 gallons
Fuel burned to sail one mile
...
70 gallons